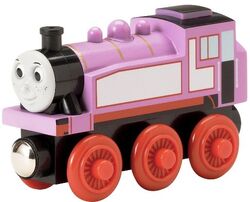 Rosie
First Appearance: Rosie (episode)
Voice Actor: Rhyndale Railway
Class: SR USA Class
Designer: Howard G. Hill
Builder: Vulcan Iron Works or H. K. Porter, Inc
Configuration: 0-6-0T
Built: 1942
Rosie is a tank engine who works on Thomas' Branch.
Bio
Rosie arrived in 1963, where she met Nigel and rescued him from his crash with Duncan. Rosie first met Thomas on a rainy day, which her idolization for him began. She enjoys doing work and helping friends. Rosie is very good at her work and gets it done right on time. 
Persona
Rosie is cheery and kind. She can also be described as a feisty fun and very free-spirited tomboy tank engine. She is very head strong at times and will lead others in the right direction. Rosie is a friend to all. While She is working you will always see her helping her friends. Rosie tries to prove that little engines like her, can do the same work as the bigger engines can. She never judges one by appearance, but by the soul and character of the engine. 
Basis
Rosie is a SR USA Class 0-6-0T Dock Tank Engine.
Appearances