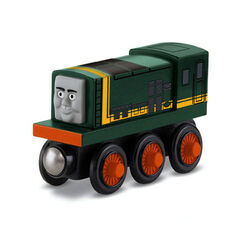 Paxton
Paxton is a young, friendly diesel who works on the NWR.
Bio
Paxton was one of the diesels who took over the Sodor Steamworks. Paxton works at Blue Mountain Quarry and was once involved in an accident there when Blondin Bridge collapsed. He was then sent to the Sodor Dieselworks for repairs. He then began to work at the BMQ after he was repaired.
Persona
Paxton is a young, gentle diesel who is good-hearted and well meaning, but gullible. He tends to be more of a follower than a leader and can sometimes find thinking for himself and making big decisions difficult. This may result in him being pressured into a situation he might not necessarily be comfortable with. However, if a friend is in trouble, Paxton will have the conscience and the self-assertion to do what he himself feels is right. As a result, the other steam engines find that he is likable and Paxton particularly looks up to Thomas at times. He also works alongside the narrow gauge engines frequently.
Appearances