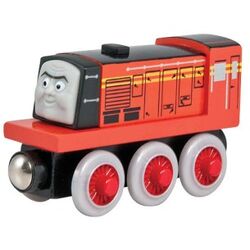 Norman
First Appearance: Blast From the Past (Mentioned)
Voice Actor: N/A
Class: Bulleid Diesel prototype, No. 11001
Designer: Oliver V. S. Bulleid
Builder: Ashford Works
Configuration: 0-6-0DM
Built:  1949
Norman, nicknamed Norm, is a diesel on the NWR.
Bio
Norman arrived on Sodor in 1959 along with his twin Dennis. He broke down on his first day and remained at the Vicarstown Dieselworks for many years. He then began working again, and soon proved to be really useful.
Persona
Norman is a tempermental diesel who is eloquent, cunning, and very intelligent. His astounding vocabulary and strategic wit make up for his frequent breakdowns. He can occasionally follow the wrong crowd and use his talents for misguided purposes, but he has a kind heart that always shines through in the end. If he were fixed properly, he would show what a Really Useful Engine he is.
Appearances