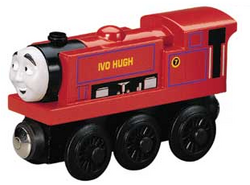 Ivo Hugh
First Appearance:
Friends:
Voice Actor: Up for Audition
Designer: Andrew Barclay
Builder: Sodor Steamworks
Configuration: 0-4-2T
Built:  1996
Ivo Hugh, named after the Skarloey Railway's former foreman, Mr. Ivo Hugh, is a young narrow-gauge tank engine.
Bio
Ivo Hugh was built by the workmen of the Steamworks for the Skarloey Railway to help out with the additional traffic that had come to the line over the years. He was named after the Chief Engineer of the Maintenance Crew, Mr. Hugh, who thought it a great honour to have an engine named after him. Not much is known about Ivo Hugh, as he never spoke in the last book to feature the Skarloey Railway. He relies on the knowledge and experience of the older engines to help get his jobs done.
Ad blocker interference detected!
Wikia is a free-to-use site that makes money from advertising. We have a modified experience for viewers using ad blockers

Wikia is not accessible if you've made further modifications. Remove the custom ad blocker rule(s) and the page will load as expected.