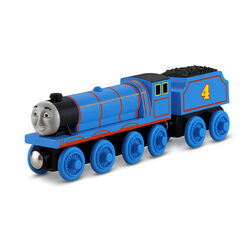 Gordon
First Appearance: Chills and Spills
Voice Actor: Oliver Duck
Class: "A0" Pacific
Designer: Sir Nigel Gresley
Builder: Doncaster Works, rebuilt Crewe Works
Configuration: 4-6-2
Built: 1922, rebuilt 1939
Gordon is the biggest and fastest engine of the North Western Railway.
Bio
Gordon is Flying Thistle and Flying Scotsman's brother and Spencer's cousin. Gordon was always used to pull the express and important trains. He is very powerful, and is not keen on the idea of shunting.
Persona
Gordon's important position as the engine who usually pulls the Express has made him proud, pompous and arrogant, with good reason too; he is the strongest engine on Sodor. Gordon's philosophy "tender engines don't shunt" meant that he looked down on tank engines and tender engines who do shunt, but after being locked in the shed with Henry and James after going on strike, he seems to have abandoned this philosophy. Sometimes Gordon shows a kinder side and gives the younger engines advice, usually after he has had some mishap as a result of his foolhardiness.
Appearances
He may appear in New Year's and Home for the Holidays
Ad blocker interference detected!
Wikia is a free-to-use site that makes money from advertising. We have a modified experience for viewers using ad blockers

Wikia is not accessible if you've made further modifications. Remove the custom ad blocker rule(s) and the page will load as expected.