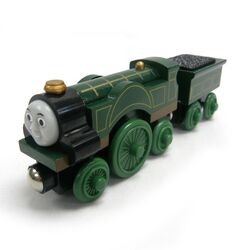 Emily
Emily is a emerald engine who works on the North Western Railway.
Bio
When Emily was new to Sodor, she was ignored by the other engines for pulling Annie and Clarabel without Thomas' permission or knowledge. The matter was resolved after she saved both Thomas and Oliver from a nasty accident on the cross-points, and she was rewarded with two new coaches. Emily proved to be kind-hearted, as she was the only engine concerned about Henry when he was ill due to leaky tubes.
Persona
Emily acts as a sisterly figure to the others. Emily is kind and friendly and always sensitive to the other engines' feelings. If she wrongs someone, knowingly or not, she is quick to apologize. From the eighth season onwards, however, Emily can tend to get into trouble because of her fussy and bossy attitude, but she is nicer than she lets on.
Basis
Emily is based off of the GNR Stirling 4-2-2.
Appearances